Back to Events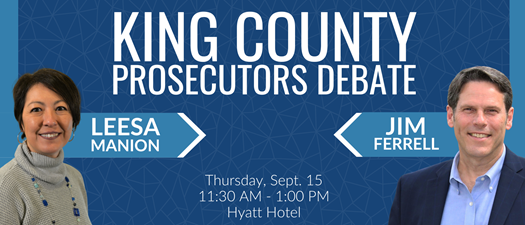 Chamber Lunch: Prosecutors Debate
Candidates go head-to-head in race for King County Prosecuting Attorney.
Thursday, September 15, 2022
* Registration open until 9/15/22 at 9:30 AM ()
Event Details
*In person registration is now closed; walk-ins will be
accepted based on availability. Virtual registrations will be accepted until the program starts.
Chamber Lunch is back and better than ever, kicking off its 2022-23 season by honing in on an integral, yet often overlooked political race.
In addition to a meal and networking, the upcoming Lunch event on Sept. 15, 2022 will feature a debate between King County Prosecutor candidates, Jim Ferrell and Leesa Manion, with KING 5's Steve Soliz moderating.
---
Behind the race: After announcing his retirement in January, the race to replace Dan Satterberg as King County Prosecutor has ultimately boiled down to two candidates, each with years of experience as and alongside prosecuting attorneys.
---
What does a County Prosecutor even do?: According to the PAO website, the role of the county prosecutor's office is "to do justice." In actuality, the Criminal Division represents the state and county in criminal matters in District and Superior Courts, the state and federal courts of appeal, and the Washington and U.S. Supreme Courts, whereas the Civil Division acts as the County's law firm. Thus, as head of the department, the County Prosecutor works to enforce laws by determining how to charge people with crimes, setting bail, controlling the plea-bargaining process, and more.
---
Meet the candidates:
Leesa Manion: For the past 15 years Leesa has served as Chief of Staff of the King County Prosecuting Attorney's Office, where she helped secure funding for the Crime Strategies "Shots Fired" Unit, added ten new victim advocate positions, and the like. She also serves on the Board of the Alliance for Gun Responsibility, the Urban League of Metropolitan Seattle, and the Korean Prosecutors Association.
"With the support of the people from King County, I would be the first woman and the first person of color to hold this seat and to lead this office, and that's history in the making," she told King 5.
Jim Ferrell: Jim is a former King County Senior Deputy Prosecutor and three term Mayor of Federal Way. Before taking over as mayor, he served as a King County Senior Deputy Prosecutor for 19 years. His top priorities are holding offenders accountable, creating a Conviction Integrity Unit, and making adjustments to the Restorative Community Pathways program.
"The number one issue in our county is public safety. People in our area are very concerned about rising crime, average increase in four years has been 77% … I think we've reached a tipping point in King County and I think the people recognize it," he told King 5.
For More Information: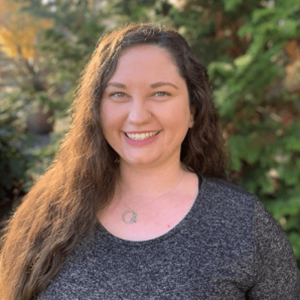 Ashley Clemmer
Director of Operations
Bellevue Chamber
(425)454-2464