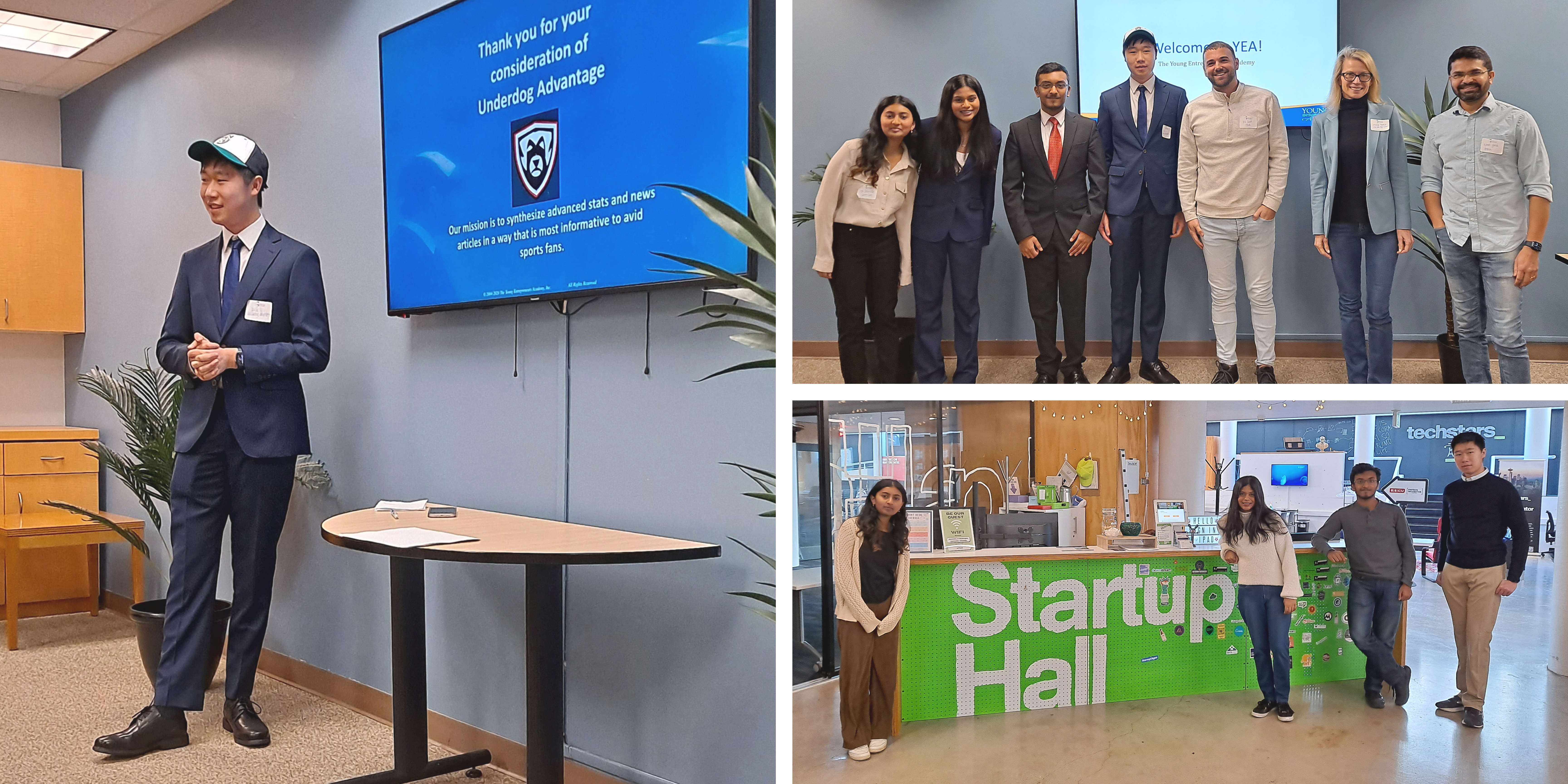 ---
Last Wednesday, four Young Entrepreneurs Academy students pitched their business ideas to a panel of investor judges. The students — hailing from different local high schools — came up with their business ideas based on different personal experiences and with the help of instructor and Founder of DevMatch, Alan Gonzalez.
Rithika Binu, Founder of Junior Finance Academy, realized the importance of understanding financial literacy after a judge awarded her financial damages following a car accident, but didn't think a teen had the knowledge to handle the funds. Liya Sebastian, CEO of LovenCare, has a grandparent with dementia who was prone to wander and created a bracelet that notified the caretaker of the patients' location.
Jack Li founded Underdog Advantage, an app that provides important data on baseball players to encourage new fans to follow teams, and Ronak Kothari created FrixStix since he knew how important tasty, healthy snacks are for kids.
After presenting to the judges — CEO Of Stack Will Rush, Interlake High School's Lasinnda Thoreson, and Amazon Advertising's Naveen Gande — Ronak was chosen as the Bellevue student to participate in the 2023 YEA! National Saunders Competition this fall.
Congrats, Ronak, and thank you to YEA! mentors David Kassis and Nancy Khoury with Banner Bank for your help!
---
What is YEA!?
The Young Entrepreneurs Academy (YEA!) is a groundbreaking and exciting program that transforms local middle and high school students into real, confident entrepreneurs. Through the year-long program, students in grades 6-12 generate business ideas, conduct market research, write business plans, pitch to a panel of investors, and launch their very own companies.
---
Get to Know this Year's YEA! Participants
Rithika Binu is a 14-year-old girl currently attending Interlake High School. She is a proactive member of her school's debate club, effectively using her voice to lead and assist her community. 
"In 2018, I was in a near fatal accident, and was initially paralyzed from my waist down, undergoing extensive treatments in many hospitals. I was granted money for my injuries and suffering, but overheard judges underestimate my ability to manage my money, and only allowed me access to it between the ages of 18-26. Following that event, I asked my parents to place me in a financial literacy course, but my parents were unable to find one suited for my age that was accessible to us. I knew then I had to find a way to make a change. During my research I was shocked that only 24% of American teenagers are proficient in financial literacy."
Liya Sebastian – LovenCare
Liya Sebastian is a 14-year-old freshman attending Tesla STEM High School. She is passionate about helping and caring for people and is a natural leader.
"A couple years ago, my grandfather had a stroke and came out of it with dementia. When he started wandering, which is a side effect of dementia, I saw that my family was struggling with how to take care of him. Learning that many people across the world struggle with the same issue, I wanted to create a solution. For family and caretakers away from their patients with dementia, LovenCare has a tracking bracelet that warns the selected contacts if the patient wanders outside of a designated safe space."
Jack Li – Underdog Advantage
Jack Li is a junior attending Interlake High School. He is an avid sports player and fan, and is a big proponent of using analytics in the field of sports.
"The Underdog Advantage is a baseball-focused app which provides news articles and advanced stats that paint a full picture of MLB teams and players. Specifically, we reference a database of stats and use their correlations to individual stats to make predictions about the future performance of MLB players."
Ronak Kothari - FrixStix
Ronak Kothari, a 17-year-old junior at Skyline High School, is a skilled and passionate individual, driven by a desire to create healthy, delicious snacks that make a positive impact on people's lives
"At FrixStix, I will provide healthy air-fried sticks for young children to make tasty snacks healthy as well."
---
Interested in joining the next cohort of Young Entrepreneurs Academy? Email
kim@bellevuechamber.org
.