Chamber announces new additions to Board of Directors
Date posted
August 30, 2022
At its August meeting, the Chamber Board of Directors voted in seven new members to join their powerhouse team.
These individuals have utilized their membership to the fullest: Engaging with the Chamber's advocacy efforts, leading chamber event and program committees, and charting the organization's strategic direction.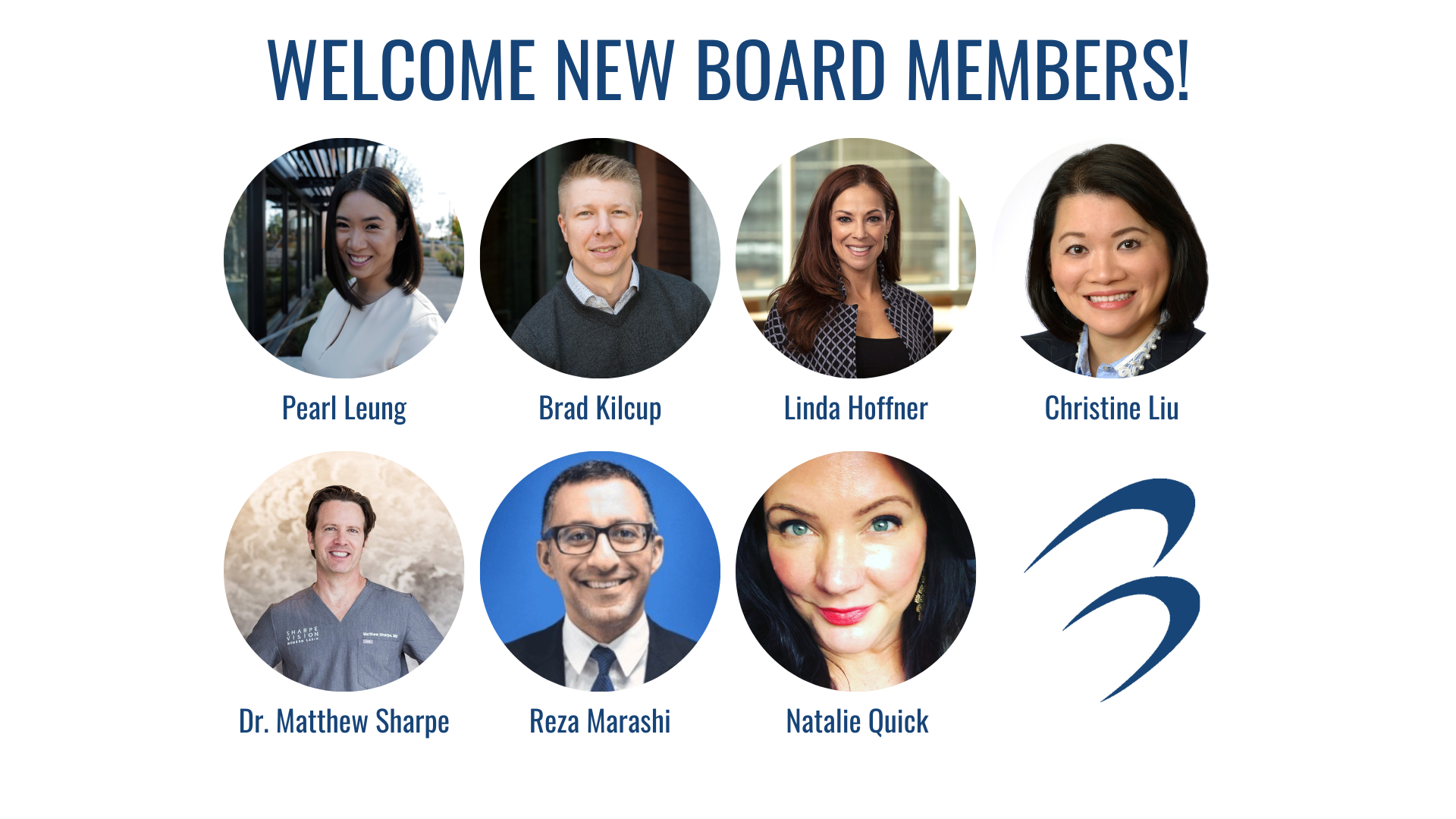 The Chamber's new Board members are:
Pearl Leung, Amazon:

Pearl is the Head of Community Affairs at Amazon, where she works on development projects, partner outreach, and more to make sure the company is being the best neighbor they can be in Seattle and on the Eastside. She has studied urban planning, real estate development, and ethnic studies, positioning her as a keen listener with a knack for problem-s

olving.


Brad Kilcup, GLY: A Project Executive at GLY, Brad is a construction management maestro. With more than 15 years under his belt as a full-time project manager, he knows the ins-and-outs of building in Bellevue across a range of commercial, residential and mixed-use properties, making him the perfect point person for those developing on the Eastside.


Christine Liu, Columbia Bank: Christine has worked as an executive in commercial banking for the last 16-some years, and now in her role at Columbia Bank, manages an extensive profile offering wealth management solutions to high-end clients. Maintaining and expanding relationships is at the core of Christine's work, and she has the technical know-how and networking chops to prove it.


Linda Hoffner, Wright Runstad: Linda loves building community, so when the opportunity arose to have a heavy hand in the planning and development of the up-and-coming Spring District, she jumped at the chance. As Senior Property Manager at Wright Runstad, she has been able to prioritize cohesiveness and vibrancy in her work, ultimately helping to fulfill Bellevue's "City in a Park" prophecy. (Oh, and did we mention she was crowned Mrs. Washington America in 2020?)


Dr. Matthew Sharpe, Sharpe Vision: Thus far in his career, Dr. Sharpe has conducted more than 90,000 laser vision correction surgeries. He has practiced for over 20 years, and in the process, founded his own Bellevue-based innovative laser eye clinic and built a team of some of the most esteemed ophthalmologists to keep it running.


Reza Marashi, Kilroy Realty: Now the Director of Government Affairs for Kilroy, Reza spends his days flexing his consumer interest and analytical chops as he interfaces with government officials across the Pacific Northwest regarding countless issues impacting Kilroy's properties. Before this, he worked as a Public Policy Manager at Zillow, for the U.S. Department of State, and at various think tanks in Washington D.C.


Natalie Quick, Natalie Quick Consulting:

Providing counsel, strategy, and guiding implementation for high-profile, complex projects is at the heart of the work Natalie has advanced during her more than 20-year tenure in the public relations field. Her work includes community outreach, media relations and public affairs strategy for public and private sector clients throughout the greater Puget Sound region.
In addition to voting in these new members, the Chamber Board also selected their Chair for the upcoming program year. Beth Osborne, Director of Local Government Affairs for Symetra, was unanimously selected to the lead the organization's Board beginning September 1, 2022. Osborne has been deeply involved in the Chamber; helping launch its successful Women's Leadership Conference; participating in the Chamber's efforts to expand workforce housing in Bellevue, and most recently serving as Chair of the Chamber's influential Policy Council.
Other agenda items at August's board meeting included adoption of the 2022-2023 annual budget and a discussion of state and federal labor law led by Ben Eckhart, an employment attorney at Archbright.
The next Chamber Board meeting is Monday, Sept. 26. Get to know the board at bellevuechamber.org/board-of-directors