UW-Bothell's Dr. Sandeep Krishnamurthy announces transition to Cal Poly Pomona
Date posted
January 31, 2023
It is one of those "good for you, sucks for us," scenarios at the Chamber this week, as we got the news that UW-Bothell's School of Business Dean and Bellevue Chamber board member Dr. Sandeep Krishnamurthy will be heading south this summer to join the team at Cal Poly Pomona.
"I am excited to share that I will be joining Cal Poly Pomona as the Singelyn Family Dean of the College of Business Administration and the Singelyn Graduate School of Business starting July 1, 2023," Dr. Krishnamurthy said in an email to colleagues. "During my visit, it was amazing to see the dedication from the staff and faculty, [and] I look forward to collaboratively engaging with them and creating a culture of celebration, innovation and collaboration."

"I will certainly miss my dear colleagues at the UW Bothell School of Business and wish them the very best."
Dr. Krishnamurthy will be serving more than 5,000 undergraduate and graduate students in his new role, focusing on the college's learning-by-doing approach and expanding its graduate program offerings.
Since joining the Bellevue Chamber Board of Directors in 2019, Dr. Krishnamurthy has become a beloved asset to our entire team. He has served as an involved board member, helped guide educational programming, and helped pilot the Eastside miniMBA program that is now taking applications for its third cohort.
"Sandeep has been an invaluable resource for all of us at the Chamber," said Chamber Senior Vice President, Kim Fredericks. "His way of connecting people and ideas is inspiring, and he is the perfect person to have in your corner here on the Eastside."
---


Best of luck, Dr. Krishnamurthy — we will miss you lots, and will be sure to soak up these last few months with you by our side.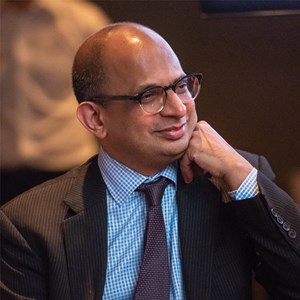 ---