Survey: Bellevue residents cheer tech job growth but want more affordable housing
Date posted
August 14, 2021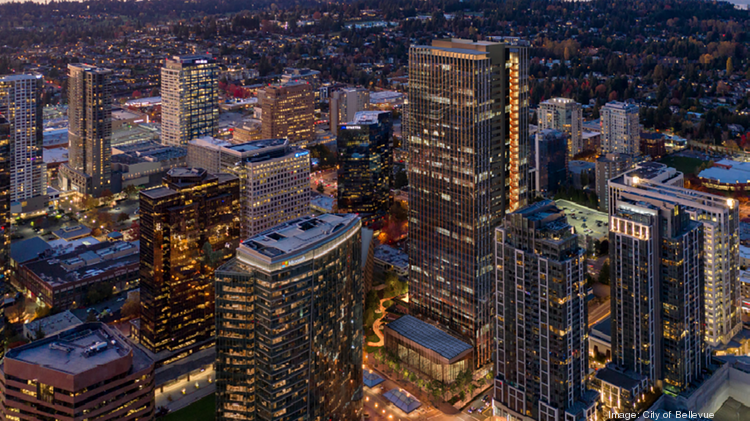 Tech companies are expanding in Bellevue and residents are rolling out the welcome wagon.
A survey of 400 people conducted by EMC Research July 8-13 found that 81% of respondents agreed that Bellevue was a good place to do business. They were also asked what the increasing presence of large tech companies meant for the city. Only 12% said they had negatively impacted the quality of life in Bellevue.
The Eastside Business Alliance, the campaign arm of the Bellevue Chamber of Commerce, commissioned the study. Results were shared with the Business Journal.
Amazon.com Inc. has led the charge into Bellevue. Though it officially named Arlington, Virginia, and Nashville, Tennessee, as new headquarters locations in addition to Seattle, it's also made plans to funnel tens of thousands of workers into Bellevue.
The tech giant said last September that it planned to have 25,000 employees in Bellevue by 2025, the same number it's projecting for Arlington by 2030.
Over 2,000 people already work for Amazon in Bellevue.
"Bellevue is poised to experience unprecedented growth within the next five years and voters agree that Bellevue is a great place to do business," said Chamber CEO Joe Fain in an emailed statement.
Respondents expressed concern about affordable housing, with 65% agreeing — more than half of them "strongly" — that they would support affordable housing in their neighborhoods. Seventy percent of respondents said they agreed strongly that Bellevue should not allow homeless encampments in public parks or sidewalks.
"Transportation and affordable housing are among the top issues facing the city, and the Bellevue Chamber and City Council have worked in tandem to ensure our city has the infrastructure to be well-positioned for this growth," Fain said.
And the chamber believes it's being proactive on that front. The Bellevue City Council in July approved changes to the city's multifamily housing property tax exemption (MFTE) after a year of working with the chamber.
The changes will require developers to make up to 20% of their new housing units affordable to lower-income households in order to attain eligibility for the tax break. They also raise the affordability threshold to 80% of King County's area medium income.
A majority of respondents surveyed also approved of their local government and felt that "things in the city of Bellevue are generally going in the right direction." Over 70% of respondents said they trusted the city to spend their tax dollars responsibly. They also felt more favorable toward Bellevue's City Council than Seattle's.