Bellevue Developments Seek to be Transformative in Myriad Ways
Date posted
October 8, 2021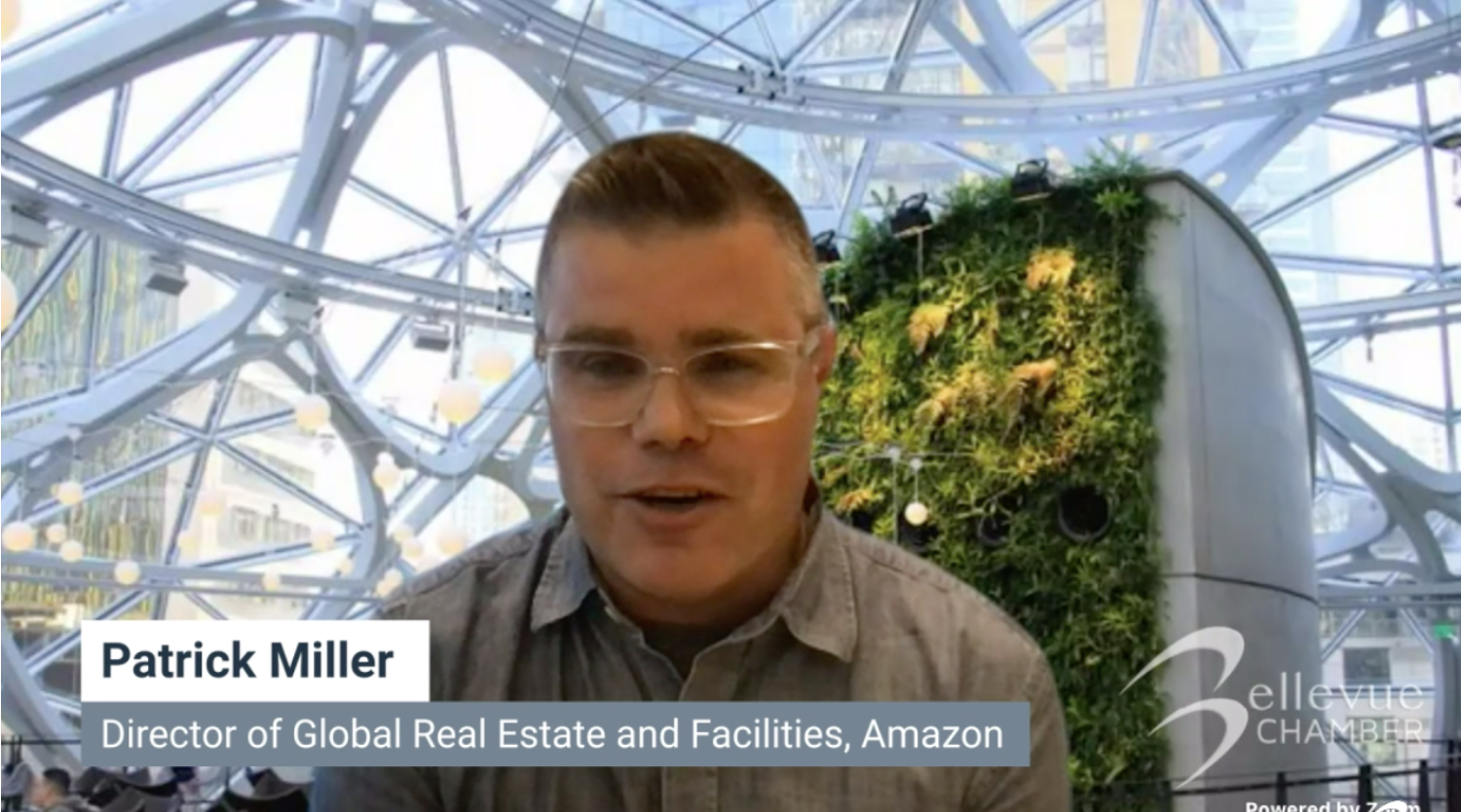 Companies that are building office and housing projects in downtown Bellevue are shaping the skyline, but they're also working to create a vibrant 18-hour streetscape that is enticing; accessible by rail, bus, foot, bike, and scooter, not just cars; and includes buildings breaking new sustainability ground related to energy efficiency and renewable power.
"We're trying to kind of break down some of the big blocks in Bellevue and allow for a really good pedestrian experience coming off of the transit center and then also connecting into the Grand Connection," Patrick Miller, director of global real estate and facilities at Amazon, said during a panel discussion on construction and growth on the second and last day of the virtual Eastside Leadership Conference produced by the Bellevue Chamber.
"I think that lays a really good foundation, then, for all of the retail amenities that we'll be putting in there," including a day care, an exhibition area with coffee, a meeting center similar to Amazon's Seattle facility, and more, Miller said of the company's Bellevue 600 project it's building.
The project includes two towers of 31 and 43 stories, which are among 12 the company plans, mostly leased, for the 25,000 employees it expects to house downtown in the next few years. It has about 4,000 there now.
Miller referred to the "ground plane" several times in his discussion, and the importance of active, attractive ground-level features, plus multimodal transportation options important to Amazon employees, many of whom rely on other forms of transit than cars. The site also will include 40 species of native vegetation in its plaza areas connecting to the city's planned Grand Connection.
The company also is focused heavily on supporting affordable housing in the city, he noted, adding, "This is just a multipronged issue that we all have to work together on; there's not one silver bullet here."
Amazon also is pursuing Leadership in Energy and Environmental Design (LEED) gold certification or higher for Bellevue 600, salmon certification, and all-electric buildings, he said of trying to move the sustainability and climate-improvement needle forward.
Mark Kane, chief operating officer of GLY Construction — which is building many of the prominent projects in the area — said Microsoft's work on its new Redmond campus includes a thermal energy center and ground source heat pumps that will make it a "one-of-a-kind facility in North America."
He also praised Amazon's sustainability efforts on its ground plane and in its buildings.
"Buildings use about 40 percent of our nation's energy supply, so improvements that we can make in our buildings have real-world impact for everyone, even those that aren't in our buildings," Kane said. "So you're going to see significant improvements in the energy and equipment that goes into the buildings, a more energy-efficient envelope, and you're going to start to see more onsite energy generation in both photovoltaic and wind as you move forward."
Kane also cited the importance of companies like Amazon and Microsoft continuing to advance their construction projects, even as employees largely work remotely during the pandemic. Those construction projects have proved valuable to Washington's economy, he said.
"Washington being a sales-tax-dependent state has really relied upon these major construction projects moving forward," he said. "Washington would be in a very different place if we didn't see all the commercial construction activity that you're now seeing."
Thursday's conference date also included panels on infrastructure and transportation, and arts and culture. It followed other sessions Wednesday, including keynote presentations by Brad Smith, president of Microsoft, and Brian Huseman, vice president of public policy at Amazon.
Leshya Wig, partner and managing director of Wig Properties, also detailed the company's vision for the East Main development downtown abutting Interstate 405. Rezoning work has been underway for seven years but the plan includes elements like housing as a key feature, including affordable housing, and a mixed-use active and vibrant environment that is activated 18 hours a day, which also takes advantage of its location across from the light rail station opening in 2023.
"In an interesting way, it's actually quite isolated, at least from a street-network perspective from the rest of the city, because you have 405 on one side, the light rail, and a single-family neighborhood on the other side. Bellevue Club is on the south, and on the north we would not have a vehicular connection," Wig said. "So it's just this very unique location and we feel fortunate that we have the opportunity to hopefully move forward on it."